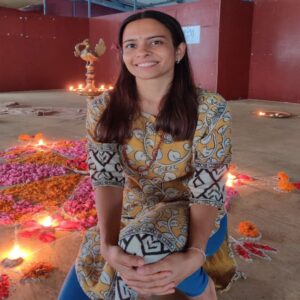 Ekta Minocha
Yoga Instructor 07 Days Yoga Retreat
Ekta Minocha was born in India and grew up in various cities across the country. After practising Yoga for many years and experiencing the inner joy it brought, she started her Yoga education out of curiosity about the subject and an innate desire for spiritual growth. She then wholeheartedly entered into the path of Yoga after quitting a career of eight years in technology.
Ekta has studied Yoga under Aayana Yoga Academy and S-Vyasa university based in Bangalore. She has taught across a wide number of Yoga studios in the IT capital taking private and group sessions. Ekta guides Yoga sessions based on Hatha, Iyengar, Vinyasa and Yin Yoga. To deepen her practise and skill she has also studied Embodied Movements and Functional Anatomy with Yoga Sadhana under Shri Parveen Nair.
Yoga abhyasa gives us the opportunity to build self awareness by bringing us into a state of balance – a moving stillness. Her goal as a teacher is to make students experience their inner stillness.