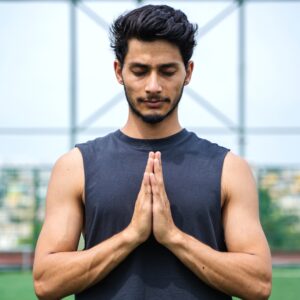 Sourav Bhandari
Hatha Yoga and Vinyasa
Sourav, born in the serene city of Rishikesh, has always had a deep connection with sports. His innate curiosity about the intricate workings of the human body led him to explore the practice of yoga. Fascinated by the yogic perspective on the human body, he pursued a master's degree in Yogic Science and had the privilege of learning from various revered masters in Rishikesh..
With a specialization in Hatha Yoga and Vinyasa, Asana alignment using props, Sourav has become a respected expert in his field. He has shared his knowledge and expertise by teaching at numerous yoga schools and has also established his own studio in past, where he imparts his wisdom to aspiring yogis.
As his journey progressed, Sourav's interest expanded, seeking to incorporate functional movements into his practice, he encountered shri Praveen Nair ji, a revered teacher. Under Guruji's guidance, Sourav has embarked on a transformative path, delving deeper into the embodiment of yoga asanas and pranayama.
Sourav's passion for yoga, combined with his inquisitive nature and dedication to learning, has shaped him into an embodiment of the yogic arts. Through his teachings, he aspires to help others experience the profound connection between mind, body, and spirit, fostering holistic well-being for all.